Make American steak great againTM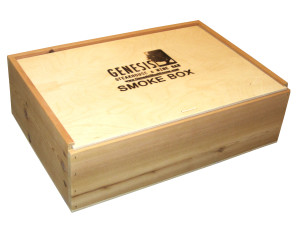 Each Smoke Box is handcrafted in the USA and hand signed by the Builder.
Our Boxes are built out of Cedar for the sides with Baltic Birch for the Lid and Bottom. Each Smoke Box is Hand Branded with Genesis' Logo on the Lid.
Our Smoke Boxes measure 20 1/4 inches X 14 3/4 inches X 6 3/4 inches . Each Smoke Box is insulated to keep your food at the perfect temperature during shipping.
Perfect for any occasion – engagements, weddings, anniversaries, birthdays, graduations, parties and more. Whether to entertain business associates, friends or family, everyone will love the presentation and the amazing food inside.
Each Smoke Box is shipped with a personalized hand written Card; just tell us what you want to say.
Once you are finished with the feast inside, the insulation pops out and you will have a beautiful handcrafted Box that can be used to store your valuables.
Please check out our Catering Menu. Whether it's a Candlelight Dinner for two or Brisket Sandwiches for your team simply fill out the Form below and one of our Catering Consultants will call you, make recommendations and process your Order for your special occasion.
The Smoke Box is $50 plus shipping.